Let's Play... Bike Champ 2!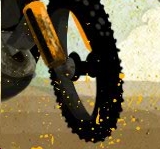 About this game: Bike Champ 2 is a wicked motocross game, where you can ride to your heart's content! Master the controls and learn tricks and stunts to improve your level and unlock different kinds of bike.
Bike Champ 2 comes from 2D Play, which also created the original Bike Champ game. Both games are fast and furious, so it's easy to see why Bike Champ 2 is one of the most popular games on English Banana.com!
Click here to play Bike Champ 2!
Why do we love Bike Champ 2 so much...?
the bikes are really fun to handle and the tricks are, er, tricky to learn!
you can earn 10 great awards, including Wheelie Champ and Top Dog!
it's possible to get extra stunt points with: rear wheelie, front wheelie, big air (off ramp), and big air + 360... amazing!
Click here to contact us and tell us why YOU love Bike Champ 2!
Contact Us! | More Games >